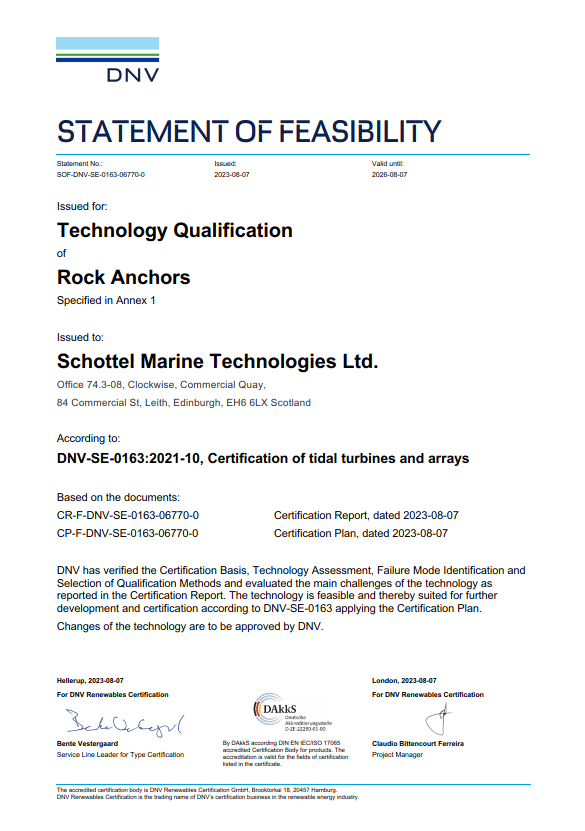 Dr Penny Jeffcoate, Technical Project Manager at SCHOTTEL Marine Technologies: "This is the first milestone in the design certification process and allows us to demonstrate that we are taking a responsible approach to managing risk and putting in place a solid basis for successful projects. I am proud of the team and the hard work and diligent engineering they have put into this process to achieve a fantastic result."
Following a technical review of our rock anchor (Swift Anchor) concept, we are proud to announce that the classification society DNV has issued a Statement of Feasibility. This affirms that the concept is considered conceptually feasible and a promising candidate for further development and qualification. The technical review used the industry-recognised service specification DNV-SE-0163 Certification of tidal turbine arrays, with further reference to DNV-ST-0164 for Tidal Turbines and DNV-ST-0119 for Floating wind turbine structures, to detail and clarify the certification activities and facilitate achieving compliance. DNV's Statement of Feasibility verifies the concept and opens the door to the potential to reduce costs and accelerate the growth of renewable energy worldwide.
About DNV
DNV is an independent assurance and risk management provider, operating in more than 100 countries. Through its broad experience and deep expertise DNV advances safety and sustainable performance, sets industry standards, and inspires and invents solutions.
Whether assessing a new ship design, qualifying technology for a floating wind farm, analysing sensor data from a gas pipeline or certifying a food company's supply chain, DNV enables its customers and their stakeholders to manage technological and regulatory complexity with confidence. 
Driven by its purpose, to safeguard life, property, and the environment, DNV helps its customers seize opportunities and tackle the risks arising from global transformations. DNV is a trusted voice for many of the world's most successful and forward-thinking companies.